Our Expertise: Connected People
Connecting Objects, connecting People, connecting Societies to build the Digital World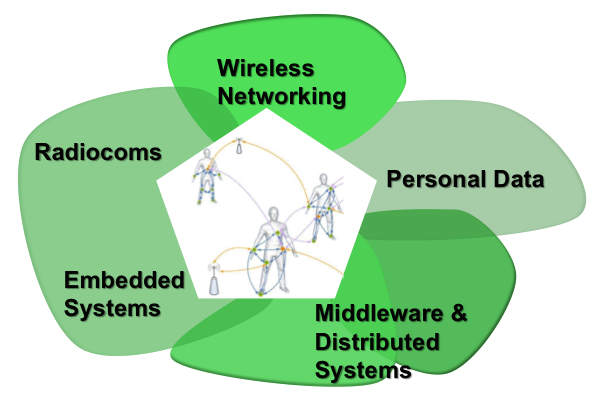 Radiocommunications
Cognitive radio - Cooperative Communications - Cellular Network Optimization - Flexible Radio
Networking
Wireless Sensor Networks - Radio Access Networks 4G/5G - Vehicular Networks - Urban Capillary Networks
Embedded Systems
System-on-Chip - Network-on-Chip - Software-Defined Radio - Ultra-low Power Embedded Systems
Middleware - Distributed Systems
Distributed Decision - Autonomic Algorithms - Dynamic Programming Languages - Internet of Things
Personal Data
Privacy Issues - Societal, Political and Economical Impacts - Security Mechanisms and Resiliency
About Us
CITI is an academic laboratory associated with INSA Lyon and INRIA. The CITI Laboratory develops research activities bringing together computer science, networking, and digital communications to address the challenging issues related to the development of Internet. This world scale network offers a seamless communication path between heterogeneous nodes (persons,objects, sensors, phones,...) in an heterogeneous architecture including wireless access, offering mobility, ubiquity and adaptability. Cutting-edge technologies are expected in various fields to provide seamless, self-adaptive and secured solutions fitting with the specific constraints of many applicative frameworks. The full cross-layer expertise the CITI acquired during the past ten years makes it a very original, challenging and almost unique place in France.
Skills
Technology-driven Platforms and Test-beds
Science Dissemination
Our Impact
Innovations and Technological Transfers together with
Academic Partners
All over the world
Industrial Cooperations
Every kind
Recent Posts

FAQ
How can I collaborate with the lab?
It depends if you are an academic or an industrial. If you are an academic and you are planning a visit or you wish to work with us, you can contact with Dr. Guillaume Villemaud. If you are an industrial, several opportunities can be considered depending on your background and your objectives. You can contact with Dr. Julien Ponge.
How can I participate to talks?
Two ways: if you are member of INSA Lyon, Inria or if you work in a research lab which belongs to the Fédération d'Informatique de Lyon, do not hesitate and join us to follow the CITI Research Talks. Otherwise, feel free to contact us. If you are thinking about proposing a research (or tech) talk linked to our research activities, please contact with Dr. Walid Bechkit.
How can I do my PhD or internship at the lab?
Visit our web site, identify our research teams and their topics, study their on-going works, check our publications and projects, then identify several researchers of the lab, and contact them. You will find their email address in the "Smart people" section. Do not hesitate to suggest topics. Do not send a request to all the researchers of lab, it is useless and non efficient.